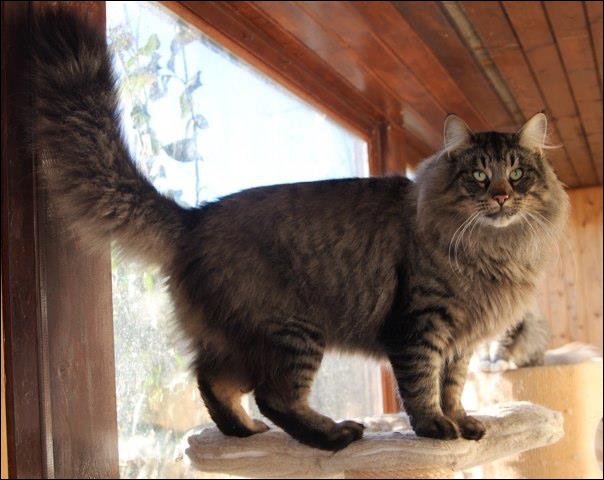 Sex : Male


Born on : March 10th, 2010


Colors : Black mackerel tabby


Health : GSD4 negativ - PK Def negativ - HCM normal 24.02.2011 & 02.05.2013


Father : Karlik Karadok*PL


Mother : Arya Bosque Montgri*ES


Pedigree : Click here


Zeus is a dream come true... I had been searching for a new male for several months, when during the World Show in St-Etienne (France), my friend Chantal (cattery of Simchat) showed me Zeus and told me he was available. It did not take me long to decide that Zeus would be the new stud of the Cattery.
Zeus has a lot of qualities that I value in a forest cat : First of all the size (8.5 kg with 3 years) - A long body and a long head, a superbe triangle, excellent profile and chin, excellent coat quality, long tail.... for perfection, his ears could be bigger and he could have a higher and rounder forehead. Beside this, he is the sweetest and most affective male in the world. Zeus gives to his children his body, but also the fact that he is very slow maturing.

Zeus is a great show cat He becamse DSM with 10 Best in Show as an adult at the age of 3 years exactly.

Thank you Fred Fred !!!!!